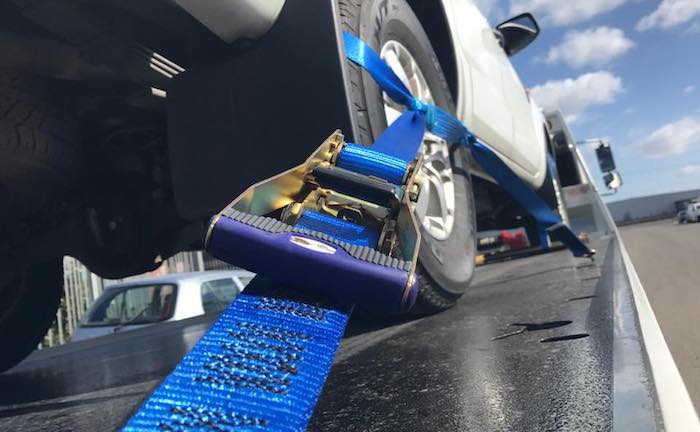 Jun
23
How To Use Ratchet Straps
Ratchet straps are the quiet heroes of load and cargo restraint. Their importance can go unnoticed until you suddenly don't have any available to strap down your cargo. Most commonly available in widths of 25mm, 35mm, and 50mm in various lengths and lashing capacities, Ratchet Straps are a safe tie-down choice for many types of load restraint jobs in a range of industries. Their simple yet reliable design is favoured by many in the cargo and transport industry. However, these products are not just for the professionals, Ratchet Straps can also be used domestically, for moving furniture, strapping down camping gear, securing surfboards and plenty of other types of cargo. 
If you're looking to learn how to use Ratchet Straps, we have answered three of your frequently asked questions below. Take a look!

How to Do a Ratchet Strap Up
The first step to securing your load and precious cargo with Ratchet Straps begins with learning how to thread, tighten and lock your device. Below is a step-by-step guide for how to do a Ratchet Strap up. Remember: Practice makes perfect!
Open the handle and axle until the ratchet's open slot if facing up.

Close the ratchet handle so that you can easily access the axle assembly to thread webbing.

Thread the webbing from under the ratchet, through the slot in the axle and then back out the way it entered.

Secure the hooks attached to each end of your ratchet into place (i.e on your truck, car, etc.). The strap should now be attached in two (2) places.

Remove the slack between the two hooks by pulling the free hanging end of the webbing.

Tighten the slack further by pumping the ratchet handle. The webbing should wrap around the ratchet's axle. Do not overtighten.

When your load is secure and your ratchet strap is completely tight, close the ratchet handle to lock into place.

Done! Your load should now be securely restrained by your Ratchet Straps.
How to Release a Ratchet Strap
To release the ratchet strap, pull back the ratchet handle into the open position. This will release the tension on the strap and it should become loose enough to pull out of the ratchet's axle slot. If your load is relying on the straps to stay upright, ensure you have adequate plans in place for how to unload the cargo without it falling, getting damaged, or hurting people – safety first! 
To slowly release a ratchet strap, try holding onto the free hanging end of the webbing so that it doesn't quickly unthread itself from the ratchet mechanism.
How to Store Ratchet Straps
Tips for properly storing your ratchet straps:
Roll webbing up and secure with a rubber band.

Store with the relevant ratchet assembly so that items don't get lost.

Keep in a dry location, away from direct sun and moisture. Failure to do so could lead to damage such as; mildew, brittleness, discolouration, loss of strength and breakage.

Inspect for damage before and after use. Replace if required.
At Load Restraint Systems, our Ratchet Straps and Assemblies are manufactured to the highest industry standards and comply with the AS/NZS 4380:2001 Standards as required.
We use top quality webbing and components to manufacture on our Ratchet Straps, Ratchet Belts and Ratchet Assemblies to ensure maximum durability and reliability. Our Ratchet Straps and Assemblies are ideal for light duties and for storing, bundling and transporting cargo. Can't find what you want? We also make custom strap solutions to suit your specific requirement!
For more information on using, storing or purchasing ratchet straps, contact the friendly team at Load Restraint Systems. Our specialists can help you find the correct gear for your job. Call us today on 1300 577 797.